Johann J. Köster Honorary Chairman of Deutsche Bauchemie e.V.
At the 72th Annual General Assembly of the German Industry Association for Construction Chemicals (Deutsche Bauchemie e.V.) from September 30th until October 1st, 2020, Johann J. Köster (founder and Chairman of the Supervisory Board of KÖSTER BAUCHEMIE AG) has been elected as an Honorary Chairman. So far, only one other person has been granted that honor in the long history of the industry association. Johann Köster has been on the executive board of the Deutsche Bauchemie e.V. for 15 years, 9 of which as a chairman. During this time he accompanied essential and pioneering projects for the industry as well as the association itself. In his laudatory speech, the CEO of the association, Dipl.-Ing. Norbert Schröter, pointed out Johann Köster's integrative character that has been highly significant for the constructive work of the association. On age grounds Johann Köster laid down his office as Chairman of the Executive Board in 2020 and therefore retires from being an active board member.
Dr. Dieter Köster has been newly elected as a board member. Thereby KÖSTER BAUCHEMIE AG stays represented in the Executive Board of the Deutsche Bauchemie e.V.
The Deutsche Bauchemie e.V. is representing the construction industry in Germany. The association consists of 131 construction chemical companies from Germany as well as other European countries. Due to that size, Deutsche Bauchemie e.V. is by far the most relevant industrial association globally. Its members generated a market volume of 8.5 billion Euro in Germany in 2019. This corresponds to half the European market volume and approximately one quarter of the global market.
Topics of the conference were - among others - new developments in European building law under the term "Construction Products Regulation" as well as activities and requirements within the industry regarding sustainability and digitalization in construction. The latter is closely connected to Building Information Modeling (BIM). This involves representation of building projects in digital data with all relevant processes and product information. This trend aims to organize construction work more efficiently and transparently. The Construction Products Regulation mainly involves propagating and abiding construction standards within Europe as well as developing an increasingly sustainable building sector while strengthening the EU internal market.
The Deutsche Bauchemie e.V. supports these developments by utilizing scientific expertise that is available in the industry. The new developments in the building sector emphasize on preserving energy, climate, and resources in construction and materials.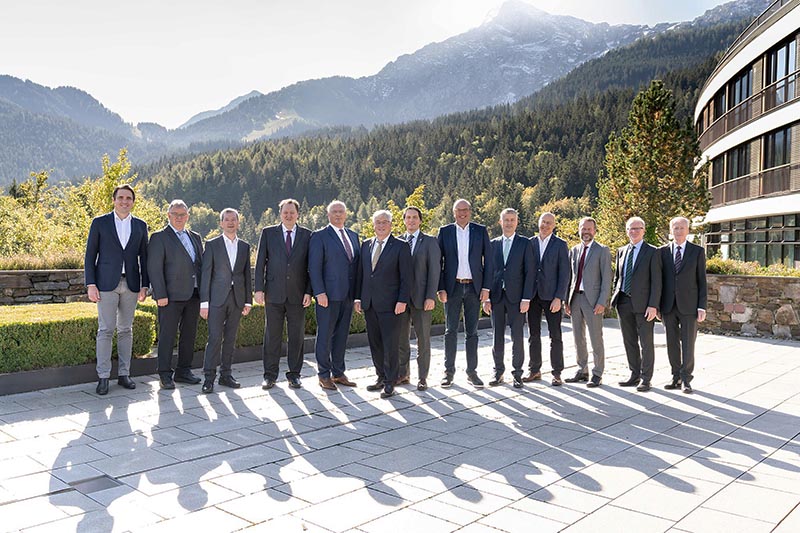 Board members Deutsche Bauchemie e.V. [right: Johann J. Köster; 5th from right: Dr. Dieter Köster]